Five delicious, feel good winter warming recipes that will become staples in your kitchen!
JAPANESE RAMEN NOODLES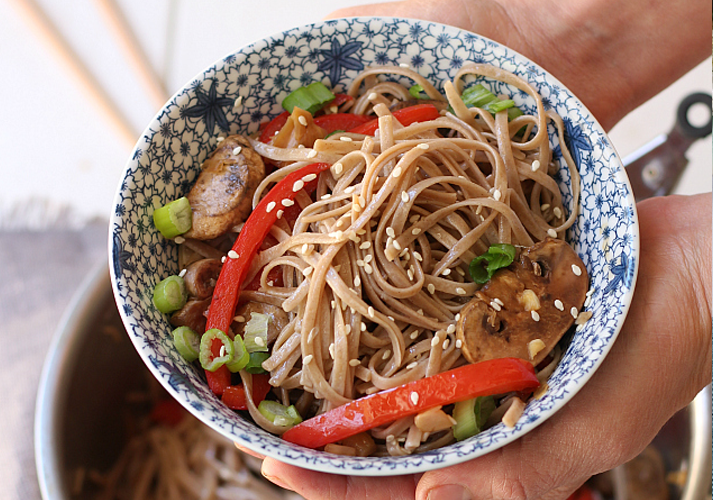 INGREDIENTS
8.8oz packet of King Soba Rice Noodles, Buckwheat Noodles, Quinoa Noodles or any Asian noodles
3-4 tbsp sesame oil
3 garlic cloves
½ yellow onion, diced
3 cups of crimini mushrooms or white mushrooms, sliced
1 red capsicum, thinly sliced
3 tbsp Soy Sauce
2 tbsp Rice Vinegar
¼ tsp ginger powder
1 spring onion, diced (optional)
Sesame seeds (optional)
Fish sauce (optional)
Chilli flakes (optional)
Dash of salt and pepper
METHOD
In a small bowl make the sauce. Add soy sauce, rice vinegar, ginger powder, a sprinkle of salt, pepper and an optional dash of fish sauce.
Chop yellow onion and garlic. Set aside. Chop mushrooms and red peppers and set in a small bowl. Pour soy and vinegar sauce over mushrooms and peppers. Set aside.
Cook noodles in boiling water according to package instructions. Drain, rinse with cold water. Toss noodles with 1-2 tbsp of sesame oil to prevent them from sticking together. Set aside.
Heat 2 tbsp of sesame oil in a frying pan on medium heat. Add in garlic and yellow onion, and sauté for a minute or until the onion slices soften.
Add in the marinated red capsicum and mushrooms with all the sauce it's in. Sauté until mushrooms are cooked and tender, about 3-5 minutes.
Still on medium heat, add in the cooked noodles, and quickly stir to combine all the ingredients. Remove and turn off the heat.
Serve noodles in individual bowls and garnish with spring onion, sesame seeds and chilli flakes.
EASY CHICKEN & VEGGIE SOUP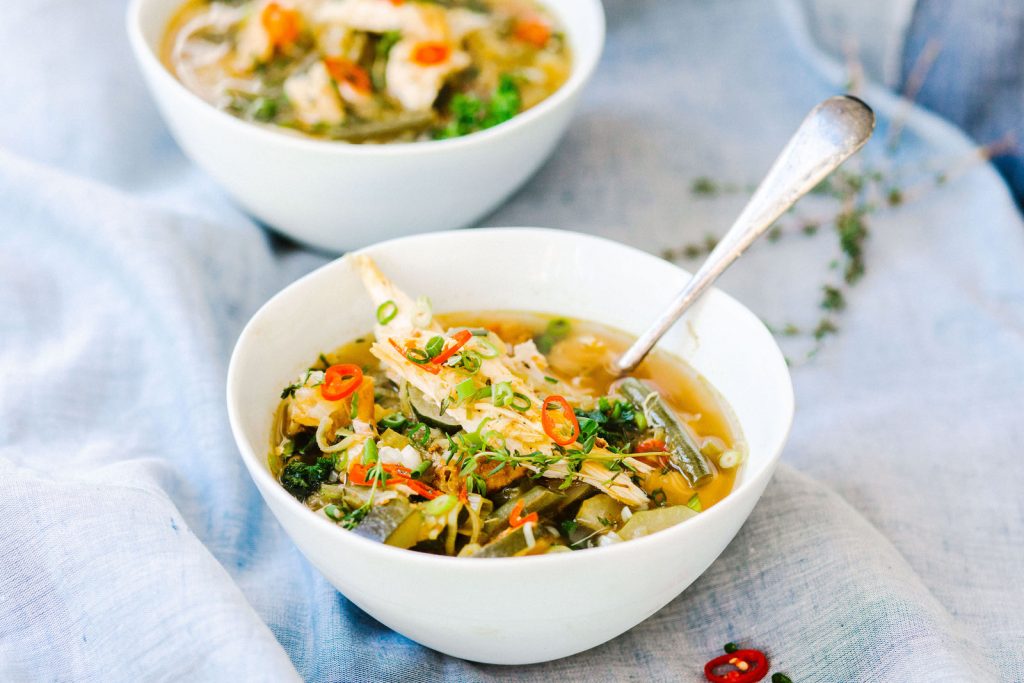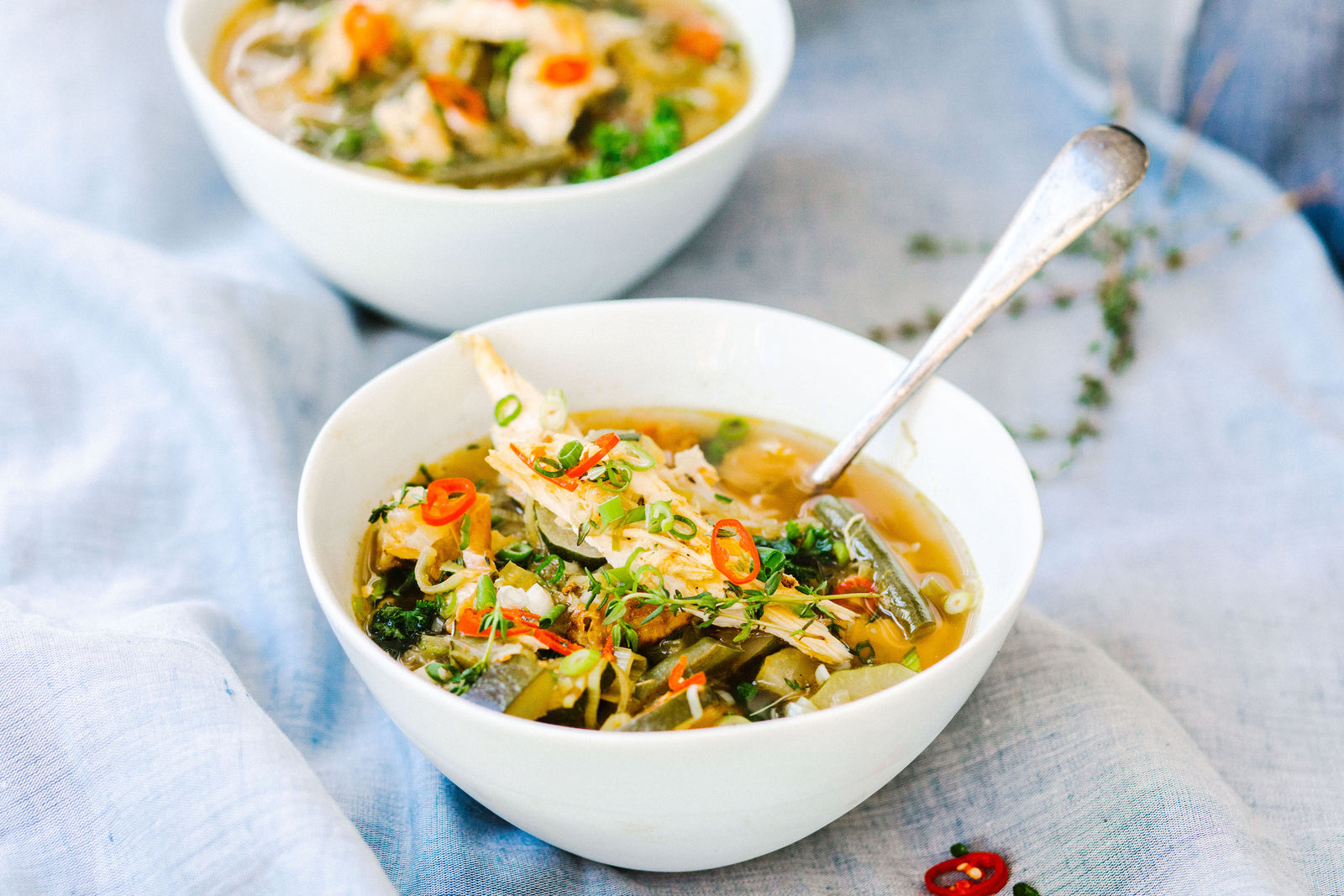 INGREDIENTS
    400-500g leftover roast chicken – roughly chopped or shredded (if using a whole chicken, cooking time will be 4-6 hours in a slow cooker)
    1-2 tbsp Gevity Rx Bone Broth Body Glue Lemon & Herb
    2 cups filtered water
    150g green beans, topped and tailed and chopped in half
    1 zucchini, sliced into half moons
    ¼ cauliflower, roughly chopped
    1 chilli, finely diced (optional)
    1 knob of ginger, grated
    2-4 garlic cloves, finely diced
    1 shallot, finely sliced
    2 leeks, finely sliced
    Salt and pepper to taste
    1 tbsp fresh thyme leaves
    1 tbsp dried or fresh rosemary
    2 tbsp chopped parsley
    Lemon juice to squeeze over the top (optional)
    Optional Add Ins; diced carrot, broccoli florets, diced sweet potato
METHOD
  Chop all of your chosen veggies, chilli, herbs, garlic and ginger, then add them to a large saucepan.
  Pour filtered water over the veggies until they're just covered and bring to a simmer for 5-10 minutes.
  Add all the remaining ingredients and simmer everything until the veggies are cooked to your liking.
  Taste the soup and adjust the seasoning/flavours to your own taste buds.
  When it's ready, serve with fresh herbs to garnish, and extra squeeze or two of lemon juice (if desired).
VEGAN ASIAN STIR FRY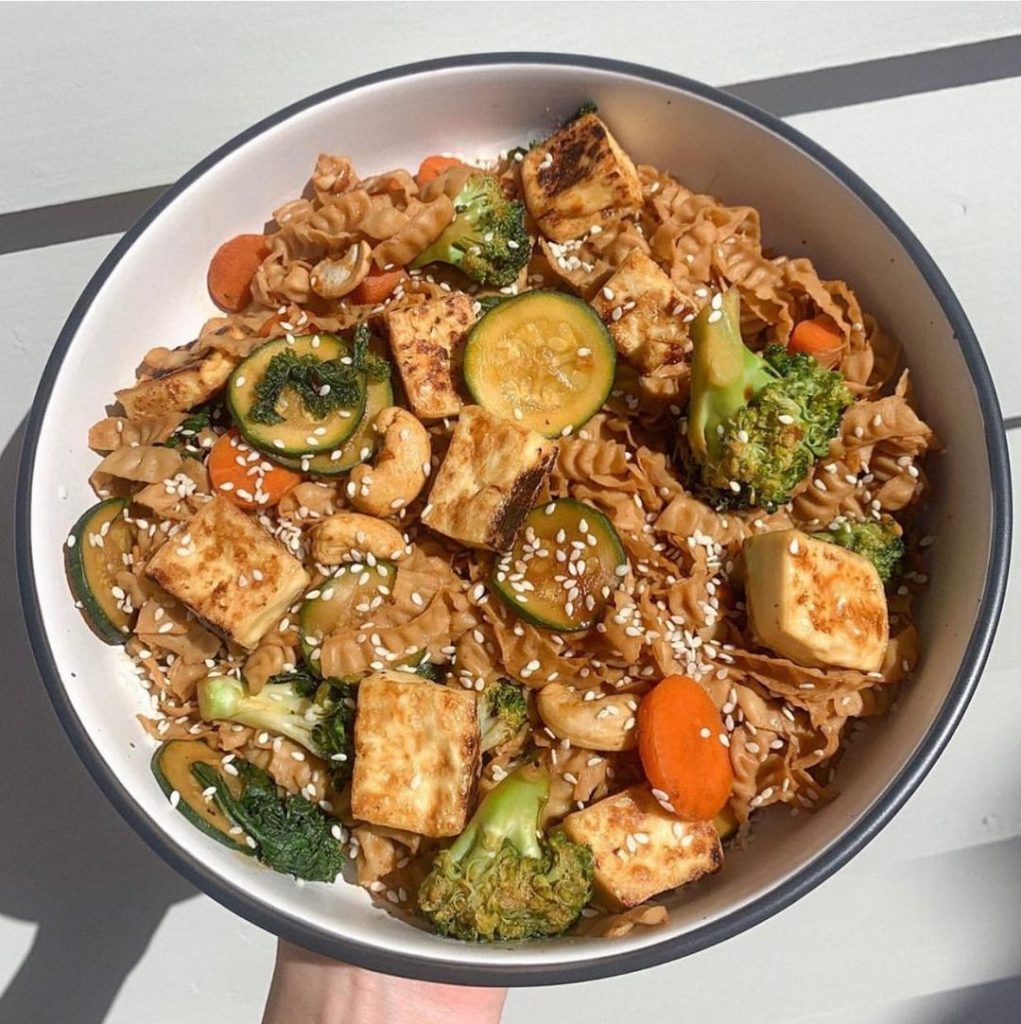 INGREDIENTS
Eco Organics Mung Bean Fettuccine 200g
3 cloves of garlic, minced fine
1 tsp ginger paste
Fresh chilli (alter to your liking)
1/3 cup Tamari
1 tbsp coconut sugar
1 tsp powdered vegetable stock
2 tsp corn flour
1/2 a block of firm tofu
Juice of 1 lime
Your favourite vegetables (we used broccoli, zucchini, carrot and kale)
Olive oil for cooking
Sesame seeds & cashews to top
METHOD
Add ginger, garlic, chilli, vegetable stock, coconut sugar, cornflour and Tamari to a container. Shake and set aside. This will be your sauce!
Cut up your favourite vegetables however you prefer them cut (keeping in mind to separately cook any solid vegetables prior to combining).
Boil water for mung bean fettuccine. Add in once boiling and cook for 6 minutes. Remove, let drain and rest.
Dice up desired amount of tofu (you can sub this out for chicken or any other preferred protein) into 1cm cubes. Add 1/2 tsp of oil to pan and fry until golden on each side (roughly 3 mins).
Start cooking the more solid vegetables in large stir fry pan. Once softened add in the remaining softer vegetables, fettuccine (or noodles) and sauce.
Once combined add lime juice and the tofu. Cook for a further 2 minutes.
Turn off the heat, plate up, add your toppings and then sit down and enjoy!
MELINDA'S GLUTEN FREE GOODIES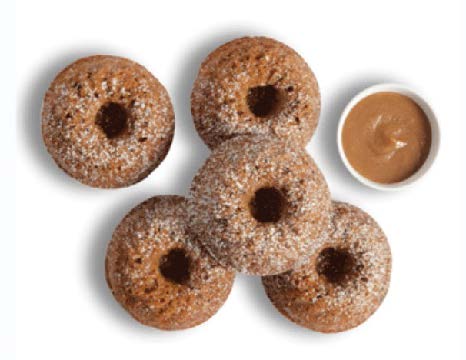 INGREDIENTS
1 x Melinda's Gluten Free Goodies Keto Choc Pudding Mix or Sticky Date Pudding Mix
2 x Eggs
110g Butter
100ml Milk
100ml Cream
Egg Alternative: 2 Mashed Medium Bananas
Milk Alternative: Soy, Almond or Coconut Milk
Butter Alternative: Dairy Free Margarine or Coconut Oil
Cream Alternative: Coconut Cream
METHOD
Preheat Oven to 180°C (160°C fan forced) and grease a muffin tin.
Melt 60g of the butter.
Crack and lightly beat eggs with a fork, add milk & melted butter and combine.
Add Keto Choc or Sticky Date Pudding mix sachet and stir to combine.
Divide evenly between 8 well-greased muffin holes.
Bake for 12-15 minutes or until golden and cooked through the centre.
While your puddings are baking add the remaining 50g of butter and the cream into a small saucepan then add the Keto Choc or Sticky date pudding sauce sachet and stir.
Slowly warm over low heat until combined. Increase heat and continue to stir for up to 5 minutes or until the sauce has slightly thickened.
Remove cooked puddings from the tin and serve warm with your chocolate or caramel sauce, whipped cream or sugar free ice-cream.
DARK CHOCOLATE LAVA BAKED OATS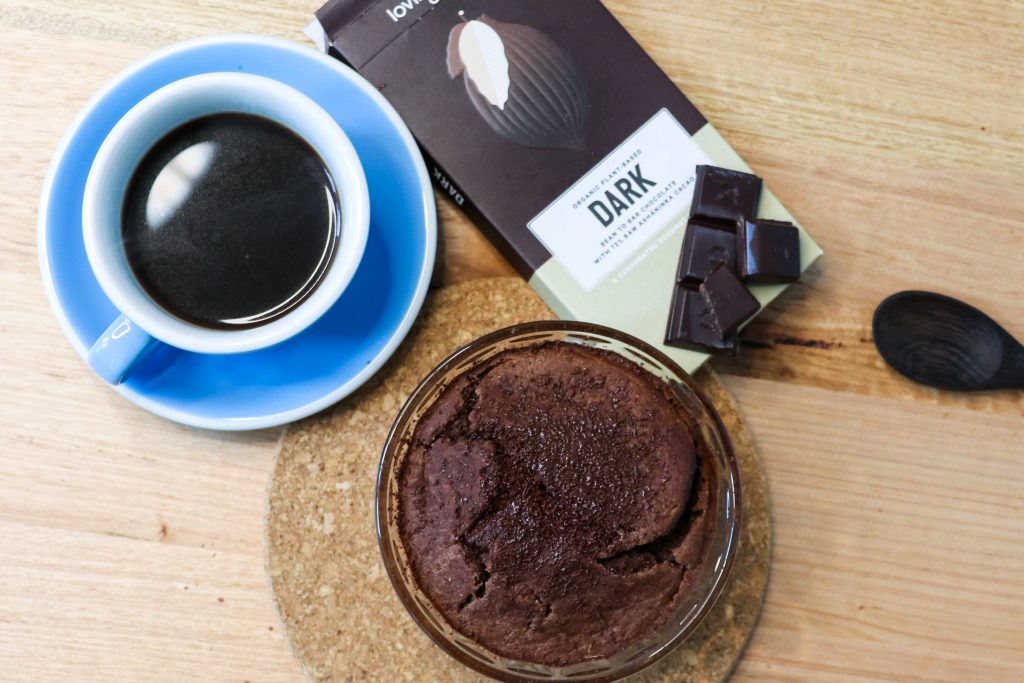 INGREDIENTS
½ a ripe banana
2/3 cup Oatly oat milk
2/3 cup Gloriously Free Organic Oats
1 tbsp Manuka honey (or use agave for a vegan alternative)
1 tbsp WholeLife Healthfoods Certified Organic Raw Cacao Powder
Pinch of sea salt
½ tbsp WholeLife Healthfoods Organic Chia Seeds
1 tsp baking powder
4 squares of Loving Earth Dark Chocolate (plus more to finely grate on top)
METHOD
Preheat your oven to 200°c.
Pulse the oats in a blender until a flour consistency is achieved.
Add in banana, milk, Manuka honey, cacao powder, salt, chia seeds and baking powder to the blender with the oats and blend until a smooth batter has formed.
Spoon the batter into your ramekin.
Place 4 squares of dark chocolate into the centre and cover with batter.
Bake in oven at 200°c for 18-20 minutes.
Finely grate some leftover dark chocolate on top and enjoy!