As crazy as it sounds, 2022 is well under way and what better time to focus on your health than now! Here at WholeLife, we sure do love our vitamins and supplements. That's why we're giving you our top vitamins and supplements for a healthy you in 2022.
Life Space Probiotics Skin Glow Powder 150g
This powder contains a powerful punch of ingredients including marine collagen, grape seed extract, vitamin A from beta-carotene and much more. These ingredients can assist in supporting skin elasticity, collagen formation and overall skin health.
Thompsons Ultra B12 1000MCG Tablets
These tablets can be extremely useful to help prevent a B12 deficiency, particularly for vegans and vegetarians who cannot get B12 by eating animal products. B12 supports red blood cell production and your general wellbeing.
Bioglan Red Krill Oil Double Strength 1000mg Capsules
Red Krill Oil has high Omega-3,6,9 fatty acids which are essential nutrients which the body cannot produce on its own. It may assist in relieving mild joint pain, as well as supporting heart health and brain and eye function.
Cenovis 50+ Multi 100 Capsules
These capsules can help support your everyday health including your energy level, immune system, and nervous system functioning.
Ostelin Bone Strength + Collagen Support Tablets
These tablets hold key nutrients which can assist in maintaining bone strength with vitamin C to support the production of collagen.
# Always read the label. Follow the directions for use. This medicine may not be right for you, read the label before purchase. If symptoms persist, talk to your health professional. *Nutritional supplements may only be of assistance if dietary intake is inadequate.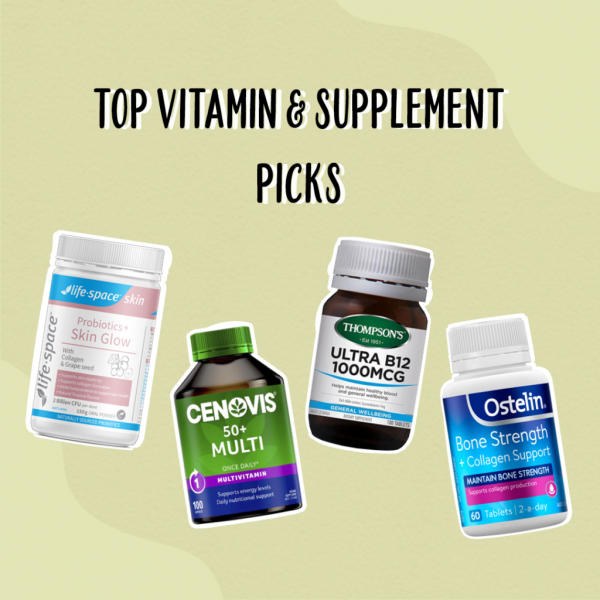 Make sure to follow us on our Instagram and Facebook page. Click here to find more of our blogs.
Feature image via: Life Space Probiotics