A vegan sight to behold! Never miss out on indulging in a piece of pavlova again! Deliciously lush, pillowy meringue topped with a cloud of vegan cream and vibrant jewels of seasonal fruit.
Ingredients:
For meringue 
1/3 cup aquafaba
1/4 cup caster sugar
1/4 tsp apple cider vinegar
For cream 
1/2 cup aquafaba
1/8 tsp cream of tartar
1/2 sifted icing sugar
1 tsp vanilla extract
For toppings 
Roughly chopped pistachios
Sliced strawberries
Raspberries
Rose petal tea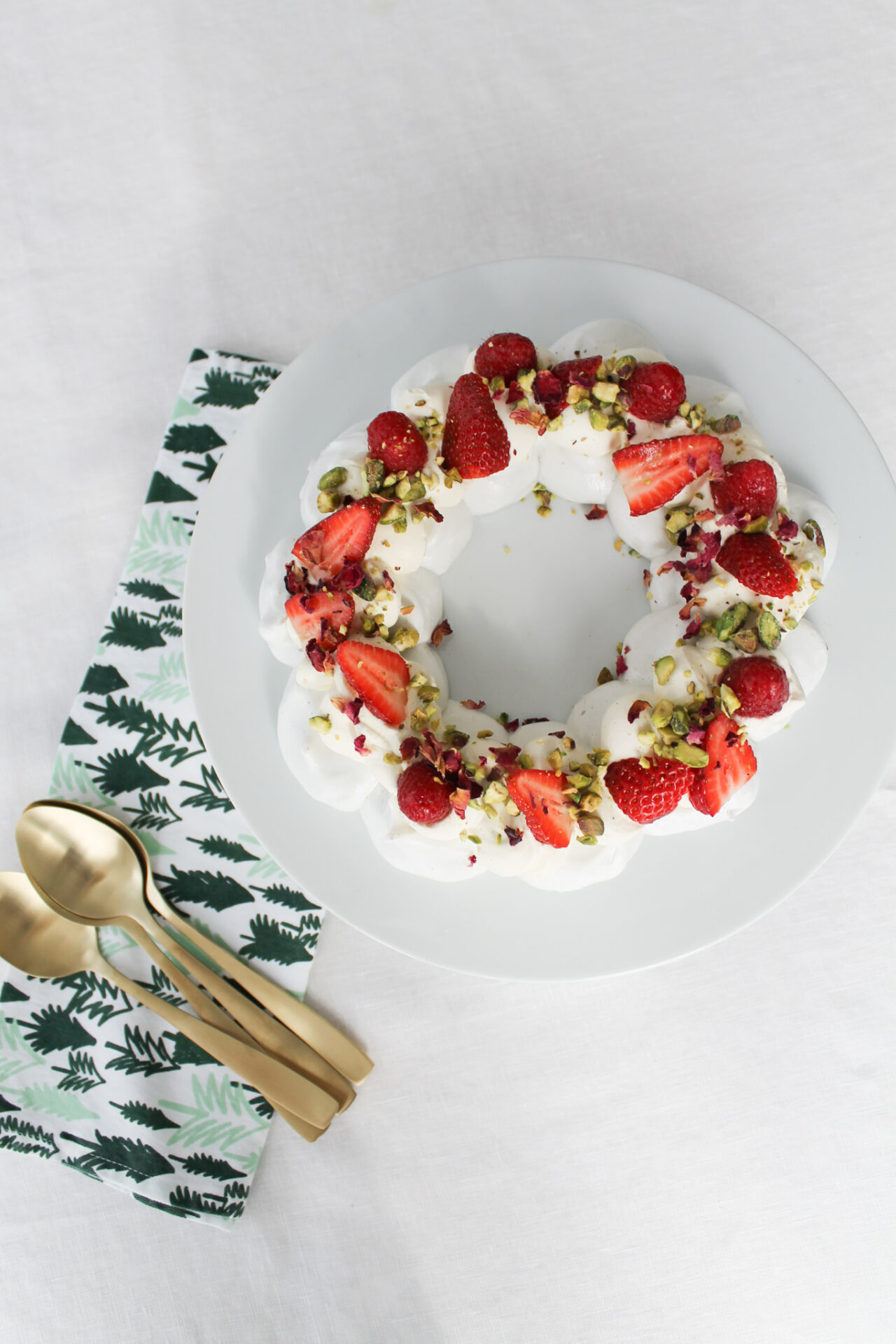 Let's Begin:
1. Preheat the oven to 100°C fan forced and line a large baking tray with baking paper. Place a large glass upside down in the centre which will be used as your guide for piping the meringue mixture later.
2. Using an electric whisk, whisk the aquafaba together with the apple cider vinegar until you get stiff peaks. This should take roughly 8 minutes.
3. Begin to introduce your sugar, a tablespoon at a time whilst whisking. Continue until all the sugar is incorporated and the mixture is smooth without any grains of sugar left.
4. Pipe the mixture in circles around the glass without touching the glass. Remove the glass and bake the pavlova for 2 hours.
5. After the 2 hours is complete, turn the oven off and allow the pavlova to cool in the oven so it remains firm. Do not open the oven door.
6. 10 minutes before you want to serve your pavlova begin preparing the cream. Using an electric whisk, blend together the aquafaba and cream of tartar until stiff peaks form, which should take around 3-4 minutes.
7. Add in your sifted icing sugar and vanilla extract, and beat until fluffy and smooth. This should take about 1 minute.
8. Pipe the vegan cream on-top of your cooled pavlova base and decorate with all your toppings.
9. Serve and devour!
For more Christmas treats check out our Christmas Açai Bowl
Follow our Instagram for more festive inspiration @wholelifepharmacyandhealthfood