Building beautiful skin begins deep beneath the dermis. As the largest organ, your skin keeps no secrets, and it can reveal a lot about your inner health and wellbeing. Pay attention and listen closely to it – it will tell you what it doesn't like and what it does like!
We know that what we put into our bodies can have just as much impact on our skin as what we put on the outside, and finding the perfect combination of the two is ideal. As you probably already have your external skincare regime down pat, let's delve deep into the world of all things internal skincare.
Fusion Health Skin Tonic Vege Capsules
Fusion Skin Tonic includes Japanese catnip which is traditionally used in Chinese medicine to calm itchy skin and relieve symptoms of mild eczema. These tablets also contain burdock which support the natural detoxification process via the skin. The addition of Dong quai may aid in promoting skin regeneration and relieving dry skin.
Teelixir Pearl Beauty Tonic 
Pearl powder is a premier adaptogen that has been used in Traditional Chinese Medicine for thousands of years. Notable benefits of Pearl powder are its ability to help promote more healthy, radiant and younger looking skin.
Clear Skin provides 12mg of Zinc per tablet to support connective tissue health and wound healing, plus 1500IU of vitamin A to support collagen formation. It also contains Calendula, traditionally used in Western herbal medicine for wound healing. Burdock and yellow dock are used as blood cleansers to support waste elimination via the skin and relieve mild symptoms of eczema and dermatitis.
QSILICA Skin, Hair & Nails ONE-A-DAY Multi-nutrient Tablets
Qsilica Skin, Hair & Nails ONE-A-DAY tablets contain colloidal mineral silica, biotin, zinc and selenium in a convenient, once daily supplement. Silicon supports bone integrity, assists connective tissue production and together with biotin and zinc, supports the health of your skin, hair and nails. Selenium and zinc help reduce free radical damage to body cells.
Nutra Organics Collagen Beauty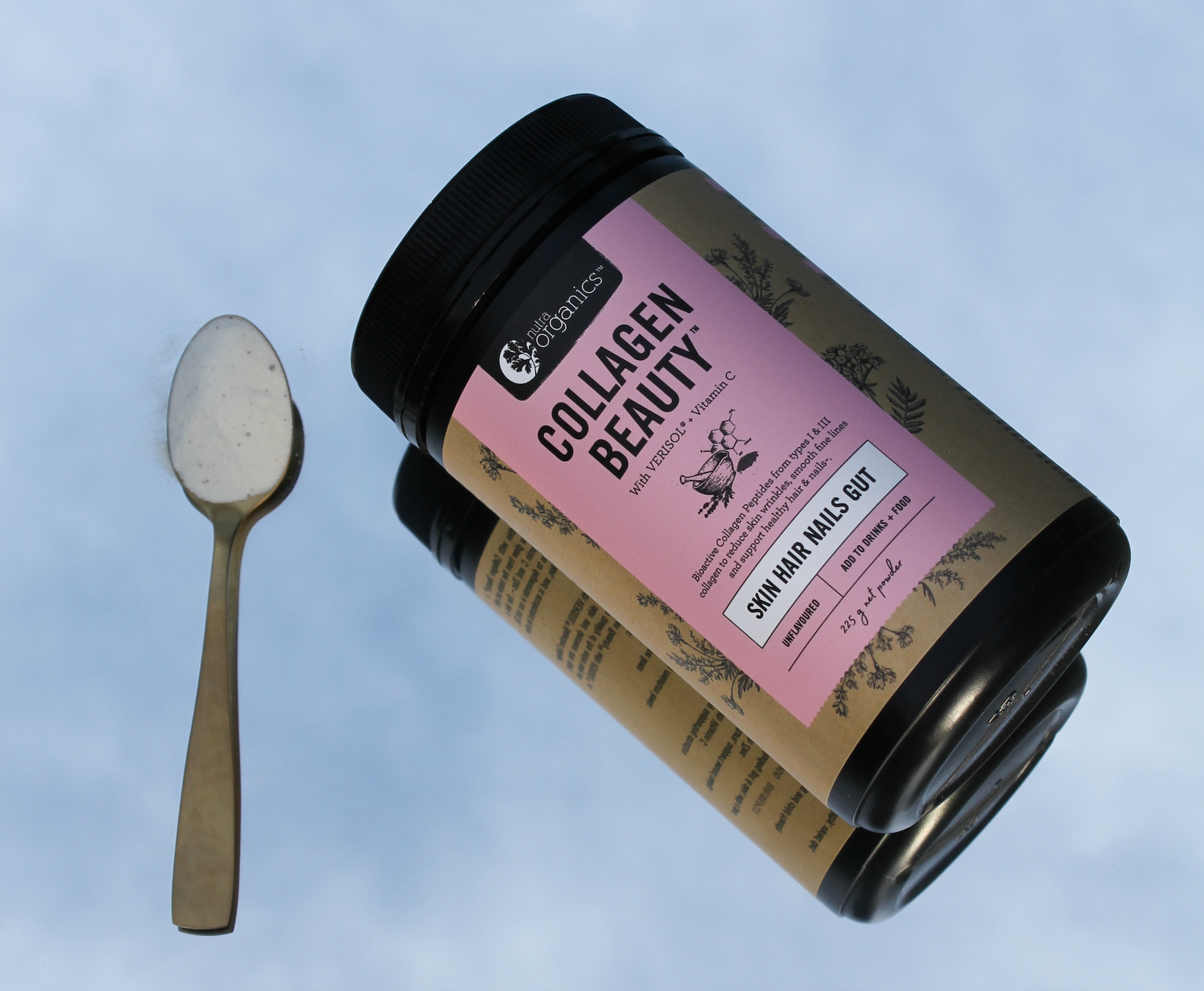 Collagen Beauty™ is a natural formulation with VERISOL® Bioactive Collagen Peptides to support structural integrity of skin and decrease skin aging factors after 8 weeks of use, supporting skin quality of the entire body and smoothing skin wrinkles from within. Research has shown that consuming Collagen Beauty™ with VERISOL®, as part of a balanced diet, may:
Reduce skin wrinkles and smooth fine lines
Increase skin hydration and improve moisture levels
Increase skin elasticity
Contributes to healthy gut and skin by supporting structure and function of connective tissue with Vitamin C
Contributes to collagen formation & protection from free radical damage with Vitamin C
Contribute to maintaining skin structure, support wound healing, and support healthy hair & nails with Zinc
Support tissue building & repair with a good source of Protein 
Plus contains the naturopathic herb Horsetail, which is traditionally said to make hair strong like a horse's tail.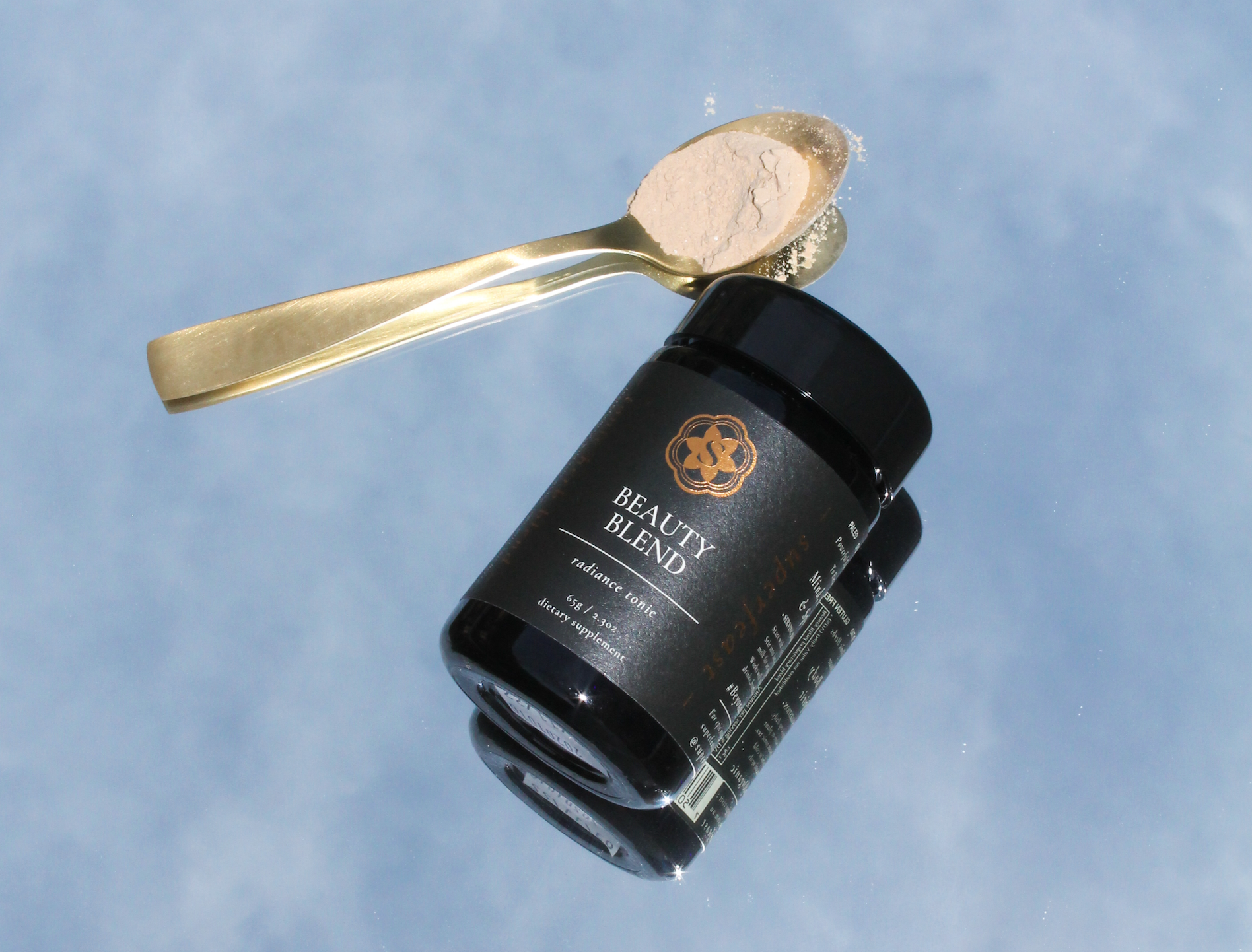 A super-blend of beautifying herbs that nourish from the inside out. The Superfeast Beauty Blend brings vitality to skin, hair and nails. Beauty Blend harnesses the toning and detoxifying properties of goji, schizandra, longan and micro-ground pearls to promote inner and outer radiance.
JSHealth Skin + Digestion Tablets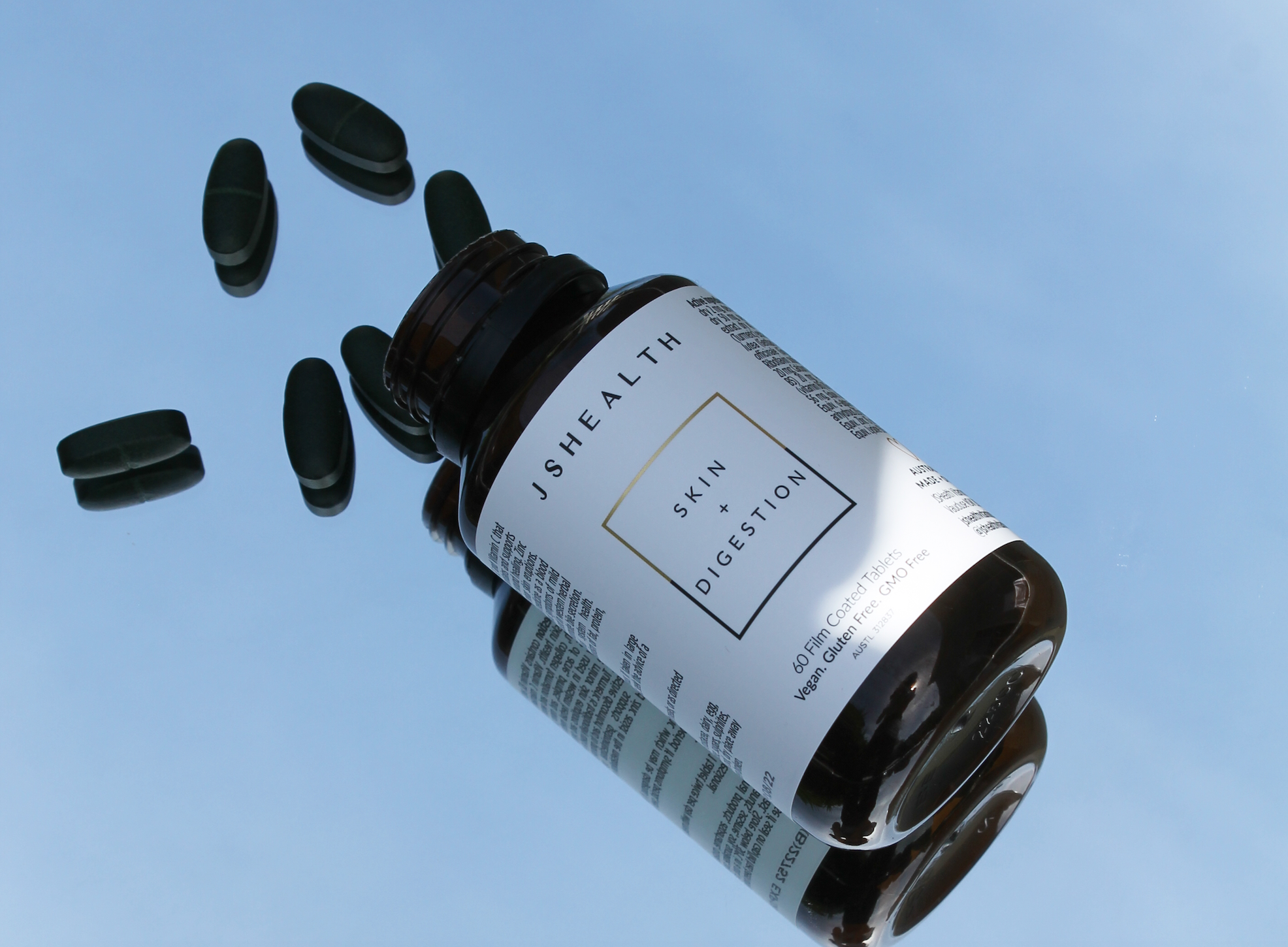 Banish those blemishes and get glowing skin! These tablets contain Zinc, which may relieve symptoms of acne, pimples, and other minor skin eruptions. Burdock is traditionally used in western herbal medicine to relieve minor skin breakouts and symptoms of mild eczema and dermatitis. They also contain Vitamins B2 and C which can help to support skin health, collagen formation, and wound healing.