This passionfruit and lemon vegan no bake cheesecake is an absolute must in everyone's dessert recipe rotation! It's dairy free, gluten free and completely vegan, with the 'cheese' filling made with soaked cashews, maple syrup and fresh lemon juice. The base is made with delicious Aussie macadamias and then finished off with a summery passionfruit topping.
No oven required in this recipe – the layers of the cheesecake are raw and set in the freezer instead, which makes this dessert the perfect cooldown treat for the warmer months. This cheesecake is made from whole food ingredients, which means it does taste a lot naughtier than what it is!
Could this vegan no-bake cheesecake make an appearance on your dining table during this year's festivities? Let us know if you try it out in the comments below!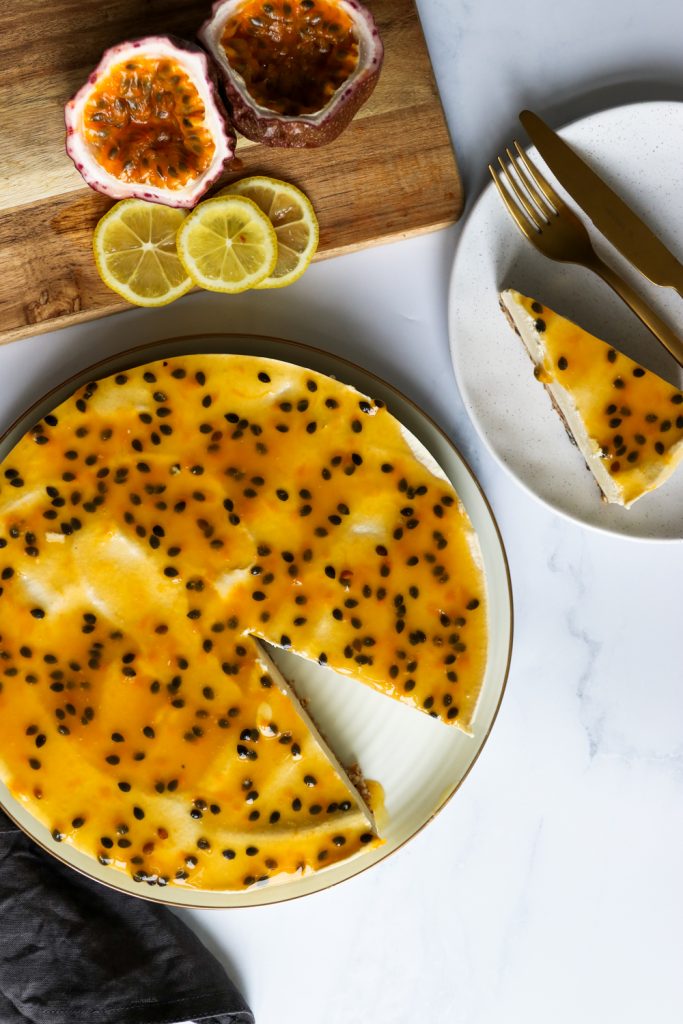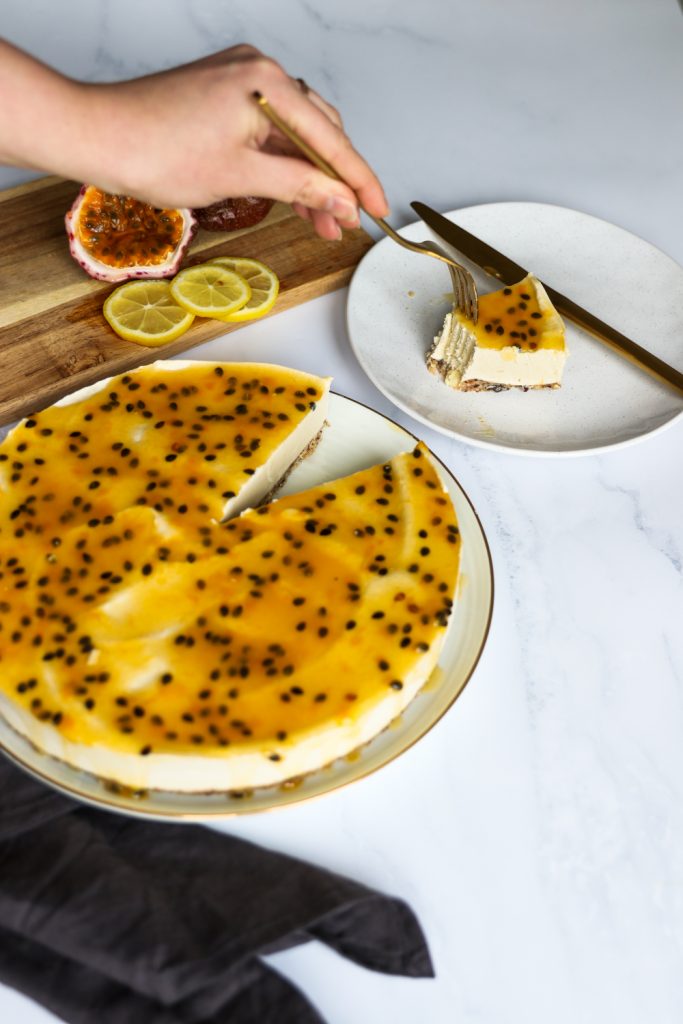 INGREDIENTS
Base:
1 cup macadamia nuts
½ cup medjool dates
1 cup desiccated coconut
Filling:
3 cup cashews, soaked overnight
¾ cup water
¾ cup maple syrup
½ cup coconut oil
¼ lemon juice
1 tsp vanilla extract
Lemon zest
Passionfruit topping:
Pulp of 2-3 passionfruit
2 tbsp maple syrup
2 tbsp cornflour
1tbsp lemon juice
METHOD
Grease the inside of a springform cake tin with olive oil and line the base with baking paper.
Blend up your macadamias, medjool dates and coconut in a blender or food processor until it starts to form a sticky, clumpy dough. If you're using a blender, you may have to give it some help to get any stuck bits moving.
Once your dough has formed, scoop it into the springform pan and press down to make an even layer. You can use your hands or the back of spoon to make sure it's nice and compact. Place into the freezer for 15 minutes so it sets.
Blend your soaked cashews, maple syrup, melted coconut oil, vanilla extract, lemon juice and a bit of lemon zest until smooth. You may have to do this in batches, depending on how strong your blender is.
Spread your cashew filling over the macadamia base evenly and then place back into the freezer to set overnight (patience, please!)
To make the passionfruit topping, heat the passionfruit pulp and maple syrup in a small saucepan over medium heat to bring to a simmer.
In a small bowl, mix the cornflour with a dash of warm water and gradually add into the saucepan while stirring. The passionfruit will take a few minutes to thicken.
Add lemon juice, stir, and allow to cool.
TIP: You can make the topping at the same time as the rest of cheesecake and store in the fridge while the base and filling set in the freezer.
Once your cheesecake is set, you can remove it from the springform pan and place on a plate ready to dress with the passionfruit topping. Garnish with lemon zest and enjoy!
Did you enjoy this passionfruit vegan cheesecake recipe? Keep up with the latest recipes and more over on our Instagram @wholelifepharmacyandhealthfood, or find more of our recipes here.