It's no secret that natural skincare and makeup is taking off. We're all trying to make conscious choices to choose non-toxic, natural ingredients in our products, which usually goes hand in hand with sustainable and ethical practices. Choosing clean beauty is win-win across the board.
But what about your nails? Did you know that most mainstream nail polishes contain highly toxic ingredients like toluene, formaldehyde, parabens and dibutyl phthalate (DBP), some of which are carcinogenic? Call us old fashioned, but that is something we definitely don't want to be putting on our bodies!
Our nails and skin are extremely delicate, and one study has suggested that these harsh ingredients like the ones mentioned can enter into the body through our nail polish. Crazy, right? Thankfully, this is where low-tox nail polish comes in to save the day and our manicures. We have selected our top 3 favourite natural nail polish brands that we stock at WholeLife that we know you will love, and your body will thank you for.
Sienna Byron Bay
Not only is Sienna Byron Bay Australian owned, but their nail polish is also 100% vegan and cruelty free. Their formula is non-toxic, and they are the first nail polish company to ban micro-plastics and glitter from all production and be completely free of Benzophenone-1.
This nail polish is better for you and for the environment with their 100% recyclable packaging. Their caps are made from local non-native weed wood instead of the usual plastic. We can also confirm that their nail polish applies deliciously smooth and even. Try them out now!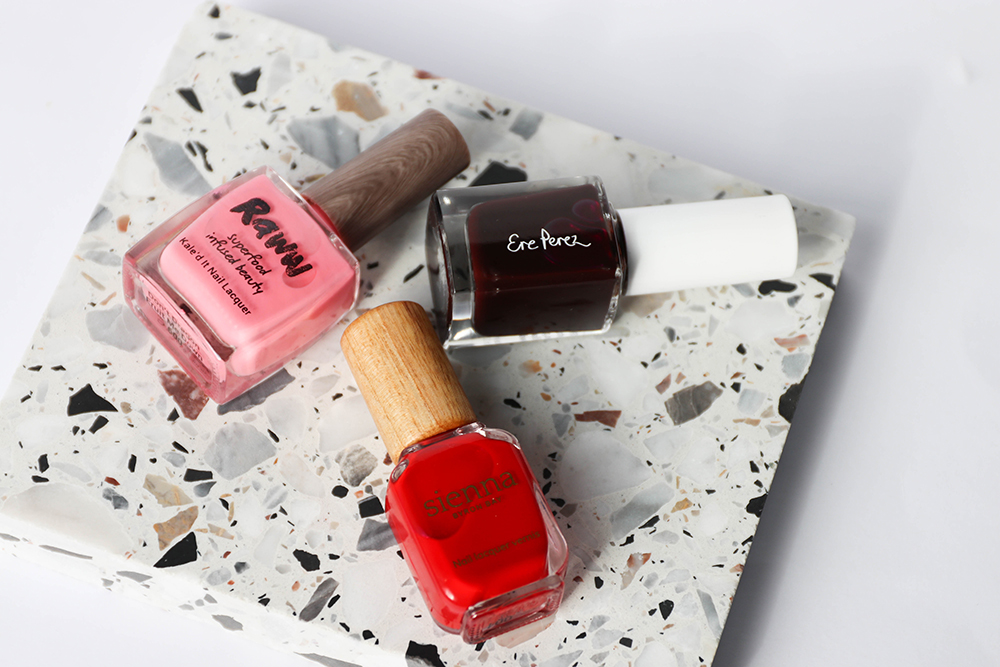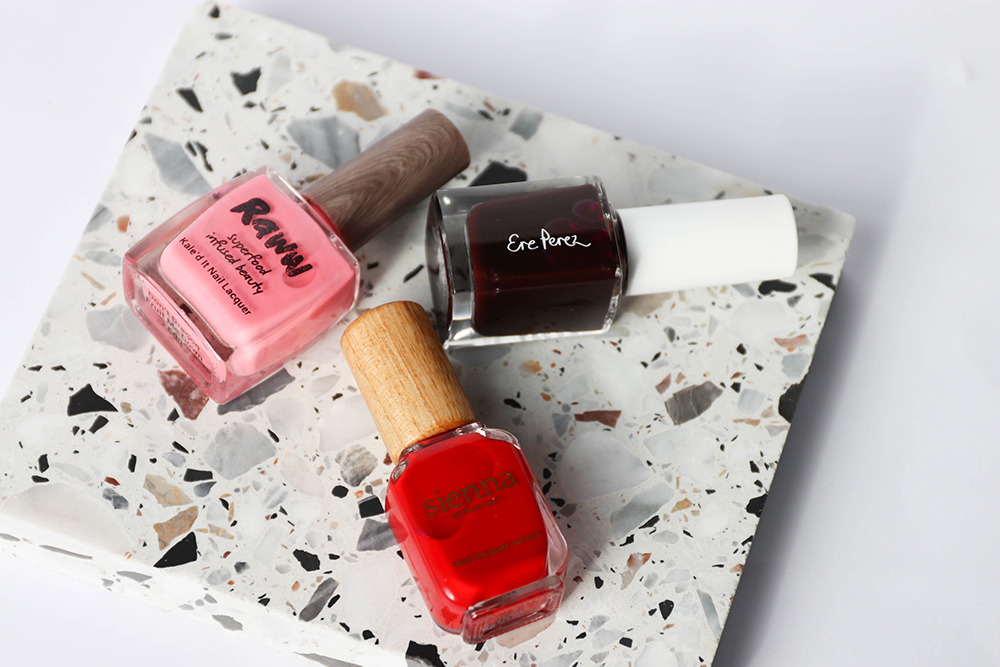 RAWW Cosmetics
RAWW Cosmetics is another brand that has taken the world by storm with their superfood infused nail polish, which is also cruelty free, Australian made and owned. At WholeLife we range RAWW's Kale'd It Nail Lacquer which has Kale Protein to stimulate keratin production for strong and healthy nails and are also enriched with Acai Berry, Coconut Oil, Sweet Orange Oil and Pomegranate Oil to keep nails in top shape with a shiny finish. Some of our favourite colours include "It's Mint To Be!" and "Don't Dragon Fruit Me Down."
Ere Perez
The Ere Perez nail polish is cruelty free, vegan, non-GMO and has no CO2. Additionally, 85% of the ingredients are from vegetable origin including green tea, cotton, corn, potato, wood pulp and silica. The combination of these ingredients can assist in treating weak and brittle nails and have anti-inflammatory properties.
You'll often see non-toxic and low-tox nail polishes label as either 3-free, 7-free, 10-free or even 12-free. These labels are simply a way of signifying that their ingredients list doesn't contain X amount of these known harmful ingredients. All of the nail polishes mentioned above are 10-free at minimum.
Have you tried out any of these natural nail polish brands? We'd love to see your natural nail designs! Tag us in your photos over on our Instagram @wholelifepharmacyandhealthfood
Interested in the clean beauty revolution? Read our other posts about natural beauty and skincare here.