What's better than a stack of fluffy, warm pancakes on a cold winter's morning? In celebration of all things Native Australia for the month of July, we've put an Aussie twist on a comforting classic by using Australian owned brands and native Australian ingredients where possible in this recipe.
The star of the recipe is undoubtedly wattleseed, which is the native seed from Australian Acacia trees that have been traditionally used for thousands of years by Indigenous Australians. The roasted and ground wattleseed gives the pancakes an earthy, chocolatey flavour. If you've never tried traditional Australian bush tucker flavours before, these pancakes are the perfect introduction.
We've topped the pancakes with a 100% Australian Manuka honey and macadamia nut crumble which has a toasted, sticky, and sweet toffee flavour. Macadamia nuts are native to southeastern Queensland and northeastern New South Wales and were an important source of food for Indigenous Australians. The nut is known by the names of bauple, gyndl, jindilli, and boombera in local Indigenous languages.
We've used Australian owned and made ingredients in this recipe where possible.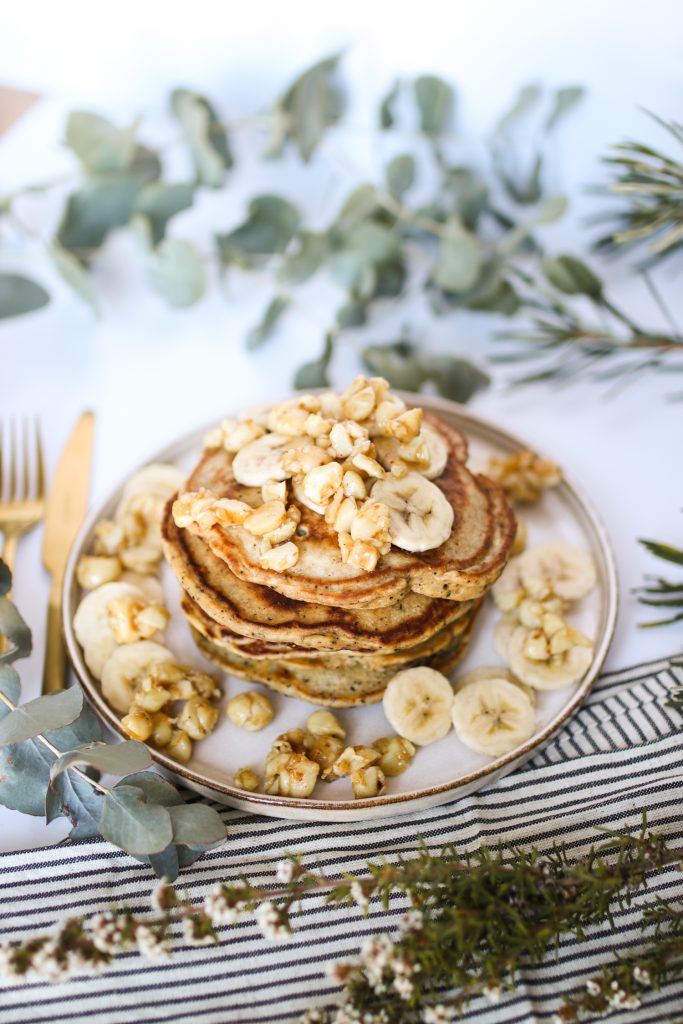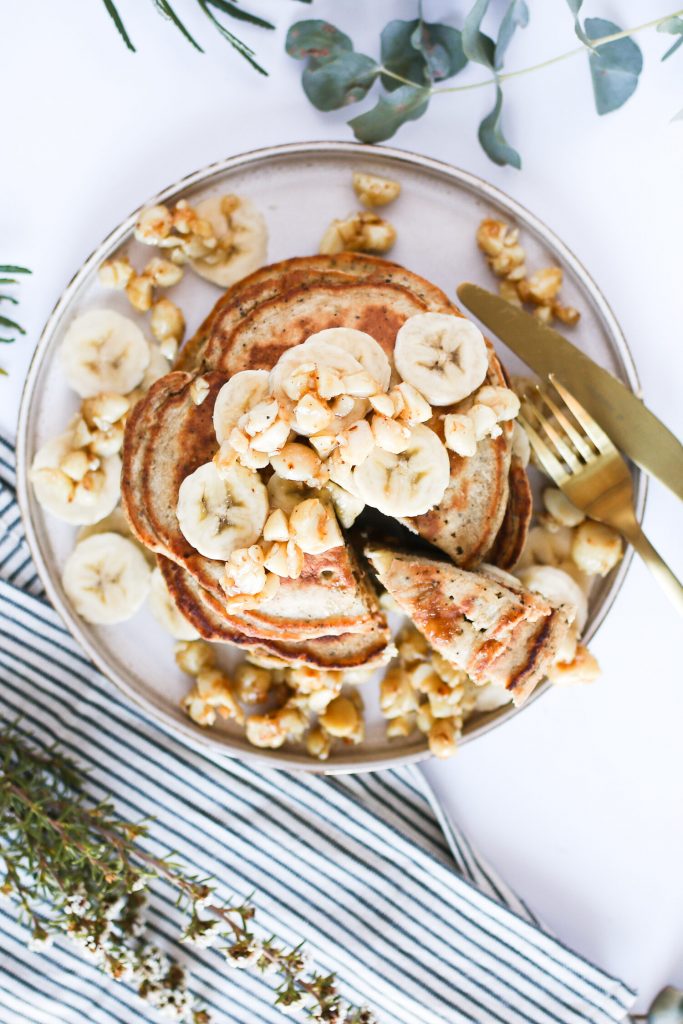 BANANA AND WATTLESEED PANCAKES WITH MACADAMIA CRUMBLE
Ingredients:
Pancakes
1 ½ cups WholeLife Healthfoods Organic Plain Flour (GF option: WholeLife Healthfoods Buckwheat Flour)
1 cup milk of your choice (we used Milklab Almond Milk)
1 banana
2 eggs
2 tbsp sugar
2 tsp WholeLife Healthfoods Baking Powder
1 tbsp Herbie's Wattleseed Roasted & Ground
½ tsp Chef's Choice Pure Vanilla Extract
Pinch of salt
Crumble
1 cup WholeLife Healthfoods Raw Macadamias
1 tbsp B Brothers Manuka Honey MGO 100+
Pinch of salt
Method:
Sift the flour into a mixing bowl and whisk all ingredients together. Be sure not to over combine the batter – it's ok if it's a little lumpy. Let the batter rest for 15 minutes.
Heat a non-stick frying pan with butter or coconut oil over medium heat.
Use a half cup measure to scoop the batter out of the bowl and into the frying pan.
Flip the pancake once it starts to bubble and cook for a further 2-4 minutes.
Heat a smaller non-stick frying pan for the macadamia nut crumble.
Combine roughly chopped macadamia nuts and a tablespoon of Manuka honey over medium heat until the honey has coated all the nuts. Set aside.
Serve pancakes with sliced bananas, macadamia nut crumble, and a drizzle of Manuka honey on top. Enjoy!
We'd love to hear if you tried this recipe out! Show us your pancake stack by tagging us on Instagram @wholelifepharmacyandhealthfood.
Check out some of our other healthy recipes: